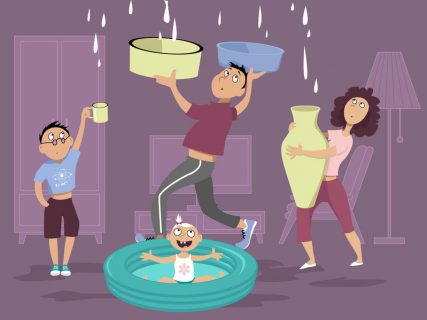 Leaks are among the most common roofing problems, so common that every roof, even the strongest, best-kept structure, develops at least one leak during its lifetime. Quality Frederick roofing company professionals say that roof leaks are obvious in most cases, but there are some leaks that are indicated by surprising, not so obvious signs – here are some indicators from both categories:
Water spots or damp patches on the ceiling – this is the most common sign that water penetrates the roof structure and from there, into your rooms;
Dampness, mold and mildew in your rooms – a roof leak doesn't need to be associated with large quantities of water entering the building from above. If the leak is small, the quantity of water will also be small and might not take the form of patches in the wall. A sign that indicates such minor leaks is excessive dampness and a musty smell in the air, accompanies by the appearance of mold in the corners or behind furniture;
Damaged or missing roof covering elements – any roof component that is displaced or ripped off will let water in;
Gutter damage – an improper drainage system can also be the culprit behind the appearance of roof leaks.